This is a sound film, do not forget to switch on your speakers to get the full effect.
PRECISION WATERING SYSTEM
BLUE INTELLIGENCE™ is an innovative and exclusive LA BUVETTE® solution intended for trainers, riders and breeders of sport horses.
Our BLUE INTELLIGENCE™ centralised system automatically monitors the water intake by horses and warns you in real time in case of abnormal consumption.
BLUE INTELLIGENCE™ has been rewarded by professionals of the equitation world for its innovative characters during the Salon du Cheval de Paris 2015 (International Paris Horse Show).
BLUE INTELLIGENCE™ SYSTEM
The system consists of a modular combination of several elements:
NORMANDY Blue Intelligence™ waterers: compact wall-mounted waterers with electronic water counter, control lamp and an optional solenoid valve (see more details about NORMANDY)
OR
any others drinking bowls with tube or paddle valve as FORSTAL from LA BUVETTE® for example.
The solution can be adapted to the drinkers already mounted in the stable.
control unit(s) (1 for maximum 5 waterers)
weather station(s)
Blue Intelligence™ management software on dedicated PC tablet (supplied)

Monitor
You can centrally monitor the water taken in by each individual horse and store the drinking data. For each registered horse, the software allows you to monitor:
the water intake in real time
the drinking behaviour
the water intake history
the climatic conditions.

Warning
You are warned in case of abnormal water consumption by a horse. Warnings appear in real time both on the software display and on the waterer by means of a warning light. This allows you to intervene very early should health problems arise indicated by a change in drinking behaviour. The system also warns you in case of various abnormalities such as the unforeseen absence of a horse distorting the statistics.

Remote Control


You can remotely manage the access to the water for each NORMANDY BLUE INTELLIGENCE waterer. The software allows setting of the maximum water quantity that can be taken in during a certain period. This option can be very useful to avoid that a horse drinks too much before a training session. The software has a built-in diary that helps you to manage all the events of the stable, when the horses are out, the meetings, …
DISCOVER THE MANY ADVANTAGES OF THIS SOLUTION
Centralised management of the drinking data on the computer.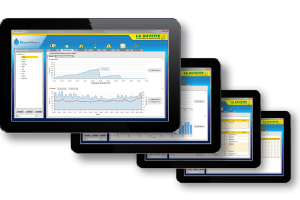 Learn more about this
INSTALLATION RECOMMENDATIONS
The installation is specially adapted to your personal needs and the configuration of each stable. The diagram below shows an installation example.
---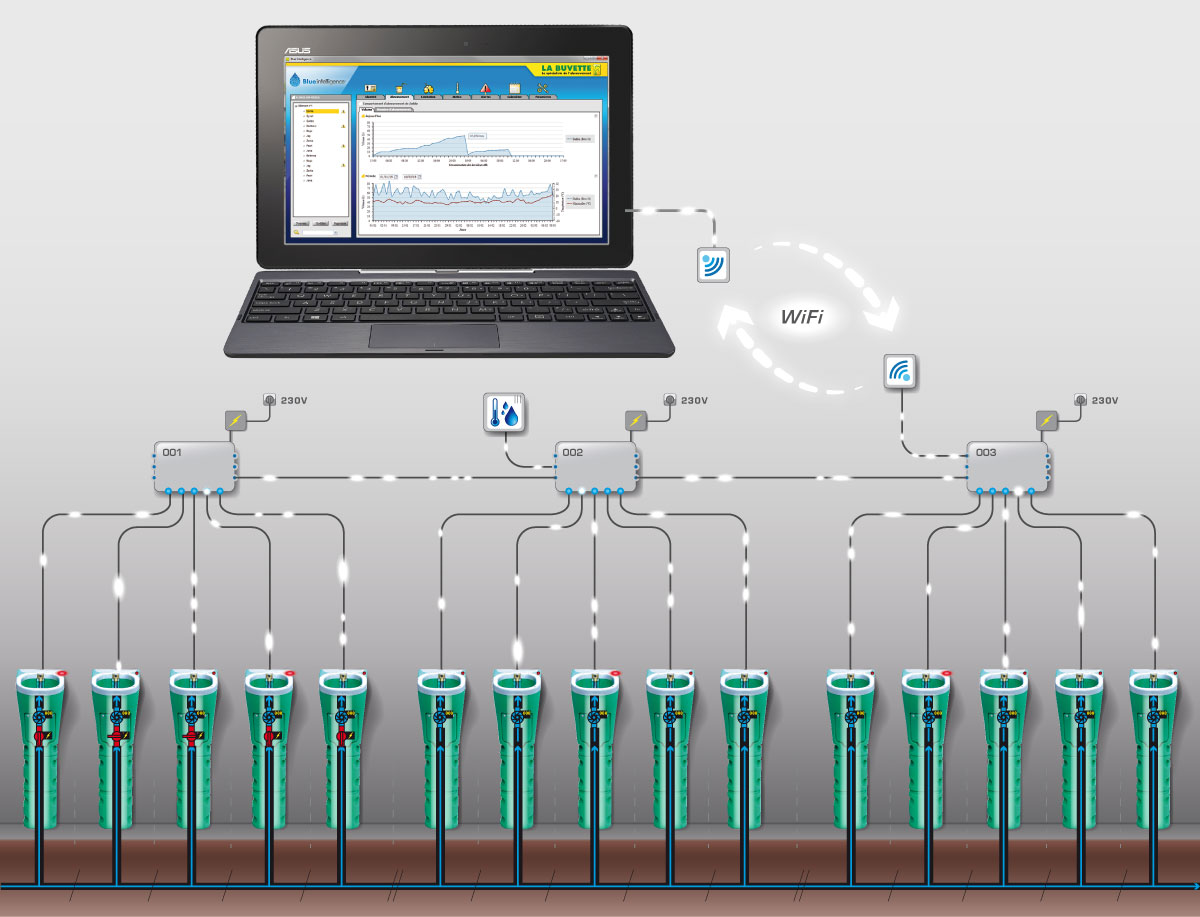 The elements of which the system consists are sold in sets allowing the realisation of all possible configurations.
A visit to your premises is necessary before the installation in order to define:
the length of the different cables (sold separately)
the number of control units (1 for maximum 5 boxes) and their location in order to minimise the length of the cables to the waterers
the number of low voltage power supplies (1 for each control unit), and their location
the 230 V power circuit to supply each energy consumer
the frost protection of the waterer, the water meter and the solenoid valve if present
the location of the software module that comes with the system (dedicated PC touch tablet)
" We have been using the BLUE INTELLIGENCE solution by LA BUVETTE for more than a year now as testers. We have equipped 10 of our boxes with the "intelligent" NORMANDY waterers. This really is a significant step forward when it comes to the monitoring and supervising of horses. The water intake is a good indication of the horse's health and the system warns us whenever the slightest anomaly is spotted. The warning appears both on the tablet and on the waterer by means of a warning light. Follow-up on the long term allows us to better know each horse and the software on the supplied PC tablet is really intuitive and user-friendly. I use the diary to manage the entries, leavings and absences and even the appointments. The waterers are very reliable too, they fit well in the boxes and are resistant to shocks and frost, which is a big plus. "
Pascal Leblond
---