SOFTWARE
Discover the functions that help you easily monitor each device
---
Follow-up of the water intake and supervision
Management of the Water Intake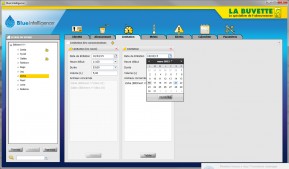 The amount of water taking in by the animals can be restricted.
The available water volume can be controlled during a certain period for example before a training session.
IMPORTANT: This function is only available on waterers equipped with a solenoid valve (optional). When the authorised water volume is reached, the solenoid valve closes until the end of the indicated duration.
SAFETY: In case of a power failure and/or communication failure with the computer lasting more than 30 minutes, the solenoid valves open to allow the horses to drink.
Data Storage